Cuervo / Re-Brand
Role: Creative Direction / Art Direction / Design /
Animation Production / VO & SFX / Digital Ads

Brand ID refresh for Cuervo tequila using the brand positioning idea of 'The tequila from Tequila'. We created an integrated brand and campaign identity system inspired by the town of Tequila itself.
My core task on this project was to conceive, plan and spearhead the creation of an illustrative for use alongside photography and editorial, all of which would be used to create branded content for both campaign and non-campaign materials for the drinks giant.
In order to get a better understanding of each of the 7 products we needed to get a better picture of the standout qualities of each of the drinks. By giving each one its own personality we were able to assign bespoke characteristics to each one. After this we conceived design systems specific to photography, illustration and editorial, which when correctly implemented, resulted in each piece of material having a layout, look and colour palette bespoke to that product... Confused?

Allow me to explain...
Cuervo Margarita Mix is a fun drink to be mixed and served with crushed ice. It's more associated with the youth market and a "party environment." This being the case, we'd filter up the illustrations for "Fun" "Product" & "Flourishes" when promoting this product. We use photography in the same way... youth oriented and use a bespoke colour palette, unique to that drink.

Jose Cuervo® Reserva de la Familia® is the worlds finest tequila. It's best served in a snifter, allowing for full appreciation of its flavours, aroma, and velvety finish. It's character is based around it's authenticity and traditional associations. So on this product we'd dial down on "Fun" imagery and focus more on "Product" and "Provenance." Photography would be more traditional and as before... we use the bespoke palette for the editorial.

Make any more sense? ;)


dialled up and down as per product.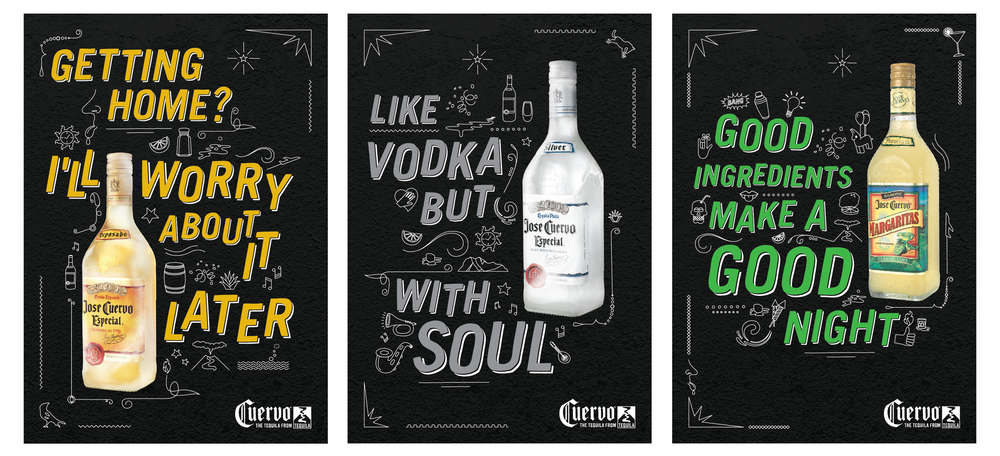 Here's the full illustration library of the 4 areas...





I wrote the guidelines on how the illustration library should sit with the new font design and the photography.




The kit is being used in the brand film, across sponsored events and for Cuervo merchandising around the world.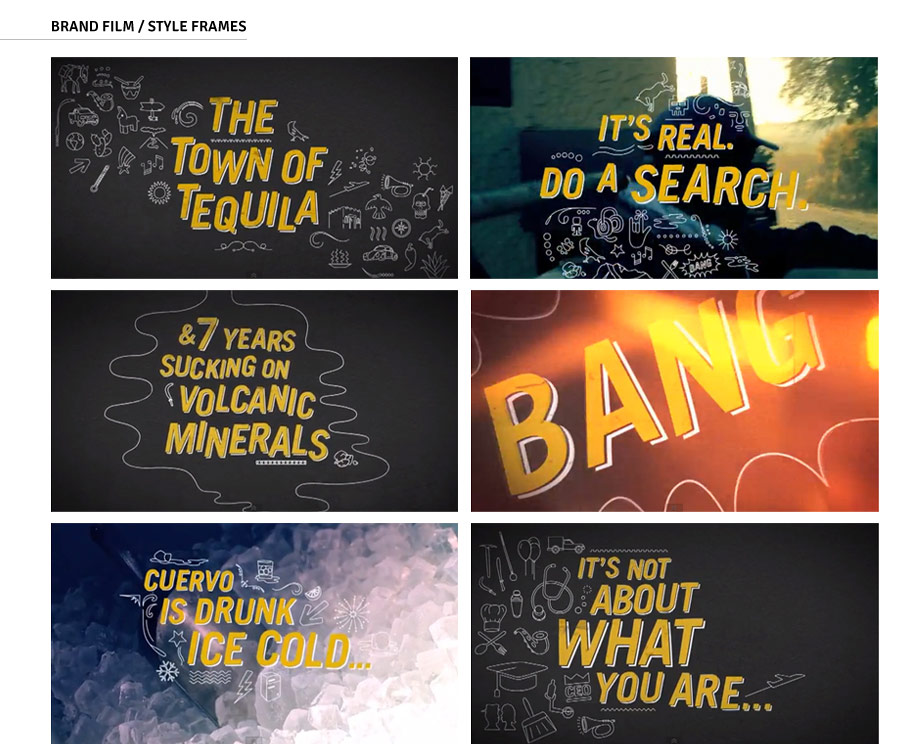 Designed the titles & directed the animation of the titles for the brand film...



CUERVO Brand Film from stephen moynihan on Vimeo.


Finally, I painted a live mural at the Cuervo World Summit event which was held at Concrete in Shoreditch, London. The finished piece now lives in the reception area of Cuervos' London offices.