SKYPE -
Digital Ad Campaign
The Brief :
Educate business travellers about the different ways Skype can be used to keep in touch.
The Idea :
Target business travellers by working with CNN to tie in current affairs programme 'Connect The World' - Using rich media interactive adds at the heart of the online broadcaster premium time slots
Friendly, educational messages, cut through the noise of CNN, spreading a simple and clear message to the viewer " Skype is much more than just free calls "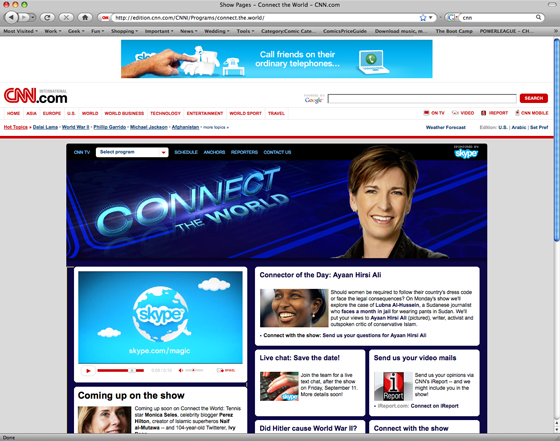 Creative Challenge :
The creative challenge on this project was to try to re-create the feeling of the beautifully animated TV Idents, produced by Passion Picture, with the confines of a miniscule budget and 2 smiling flash designers! Oh...and all the ads neede to fall in under 100K each...Nice!


Result :
6 SLICK interactive banners - Used across CNN digital communications and associated digital channels.